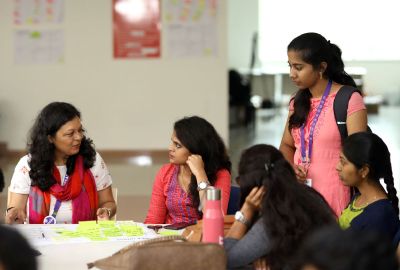 "Tell me and I forget. Teach me and I remember. Involve me and I learn"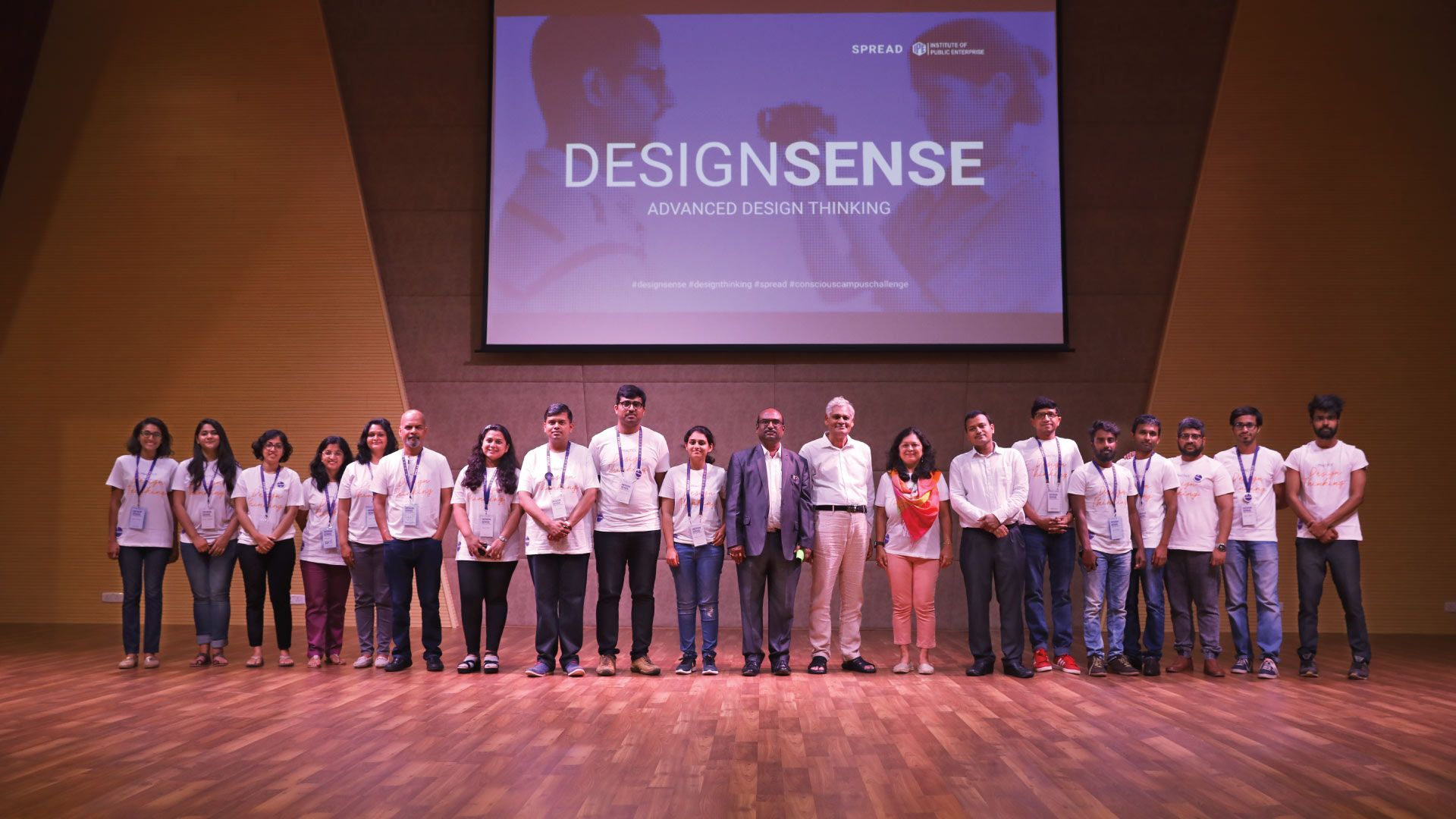 In the era of novelty and complexity we live and work with smart machines and are often influenced and persuaded by algorithms we either don't know about or don't understand. The age of automation offers unparalleled opportunity for contributions to health, longevity, safety, transportation and prosperity. But without forward-looking young leaders, benefits will be disparately concentrated, leading to conflict and reactionary politics.
Design thinking for future management leaders
How do we prepare young leaders for lives full of novelty and complexity? As much as self-directed learning is a priority in management education, Design Thinking is a significant learning priority, because may of the opportunities and problems we will face will be NEW. These opportunities and problems often sit at the boundary of traditional disciplines, at the intersection of man-made and natural systems. The challenges require a NEW approach to problem identification and solution. For the future management leaders facing novelty and complexity, critical skills include project management, data science, delivering in teams and most importantly design thinking.
Taking Design Thinking into the curriculum and practice at IPE
Design Thinking + Design Sense took over the serene IPE campus in September 2018, transforming the campus into a pop-up design lab! The entire 2nd year PGDM class of 520 students wore Design Thinking hats, 21 Senseis imbibed the values of Design Sense, and worked collaboratively in response to a large challenge posed to them by Spread – to reimagine IPE as a
Conscious Campus.
Design Sense: An approach and mindset of moving forward by consciously gaining insights and responding to situations by acting creatively, making design a natural adaptive sense. That can be applied to creating next generation business models, products and experiences.
Led by Sonia Manchanda, Chief Design Catalyst, a team of 16 catalysts from Spread and Spread Grid mentored students and took them on the Feel, Think, Do Journey over three action-packed days.
What if the IPE campus could be a Conscious Campus?
What if we could become more aware of how we consume on our campus?
What if we could be involved in the creation and not just in the consumption of resources on campus?
What if our campus was beyond green to become the most responsible, regenerative and conscious campus?

'Conscious Campus'
was the moniker given to a challenge that not only asks students to reimagine the physical space, but also changes people's perspective on ownership and responsibility. It only makes sense that the (business) leaders of tomorrow are conscious people – conscious of themselves, their actions, and the impact of their actions on people and the environment.
Leaders in the future not only need to be dynamic but also conscious. Hence, the idea of creating a Conscious Campus has to start with genuine effort from each student!
#ConsciousCampus:

A DesignSense challenge kicks off
To add dimensions of responsible and holistic design to Design Thinking, Sonia Manchanda, Founding Partner, Spread shared the Design Sense framework, which looks at design as a natural, adaptive sense. Comprising of human, aesthetic, technology, cognitive, nature, economic and evolutionary senses, Design Sense is a dynamic, creative and humanitarian construct to solving problems with greater awareness, authentic intent and creative action.
While 500 students were tasked with the grand challenge, 21 Senseis were identified and briefed on one of the senses, to conduct design research, find inspiring examples, and act as catalysts, to seed new ideas in their peers' minds over the next two days.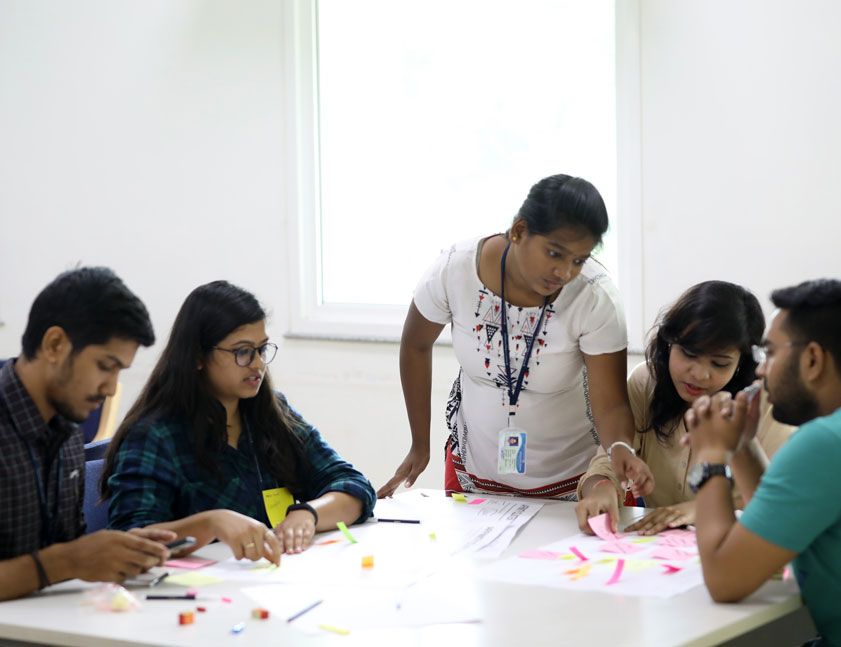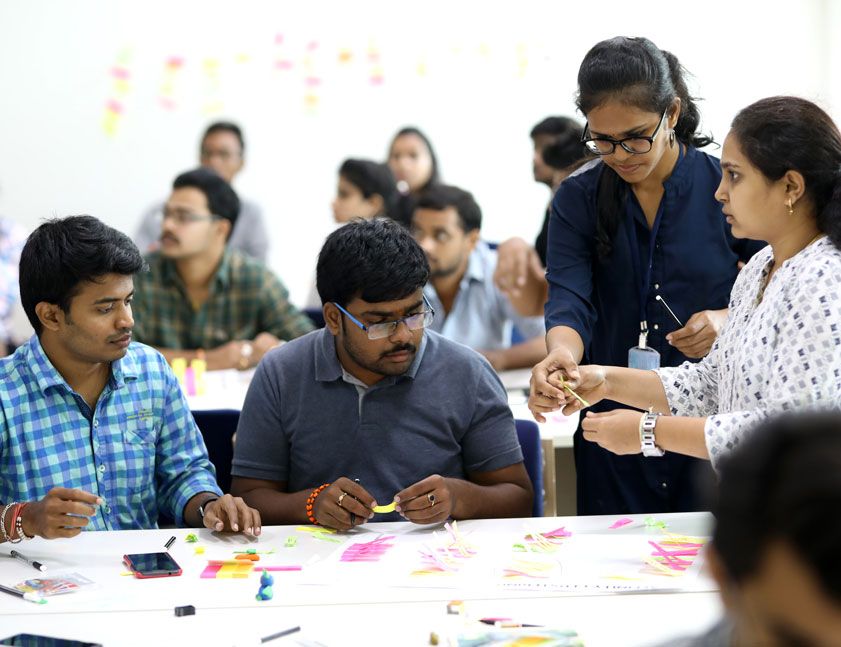 On the first day, students got introduced to the concept of Design Thinking, which is a creative, fluid, and iterative problem solving approach that has been adopted globally for creating new products, systems, services, and cultures. The process was brought alive through unique cases and innovation stories.
After a dose of inspiration, the challenge was revealed with a big, thought-provoking What If question. Based on the principles of the circular economy and one of the UN Sustainable Development Goals for 2020, we chose the challenge theme to be around Responsible Production and Consumption.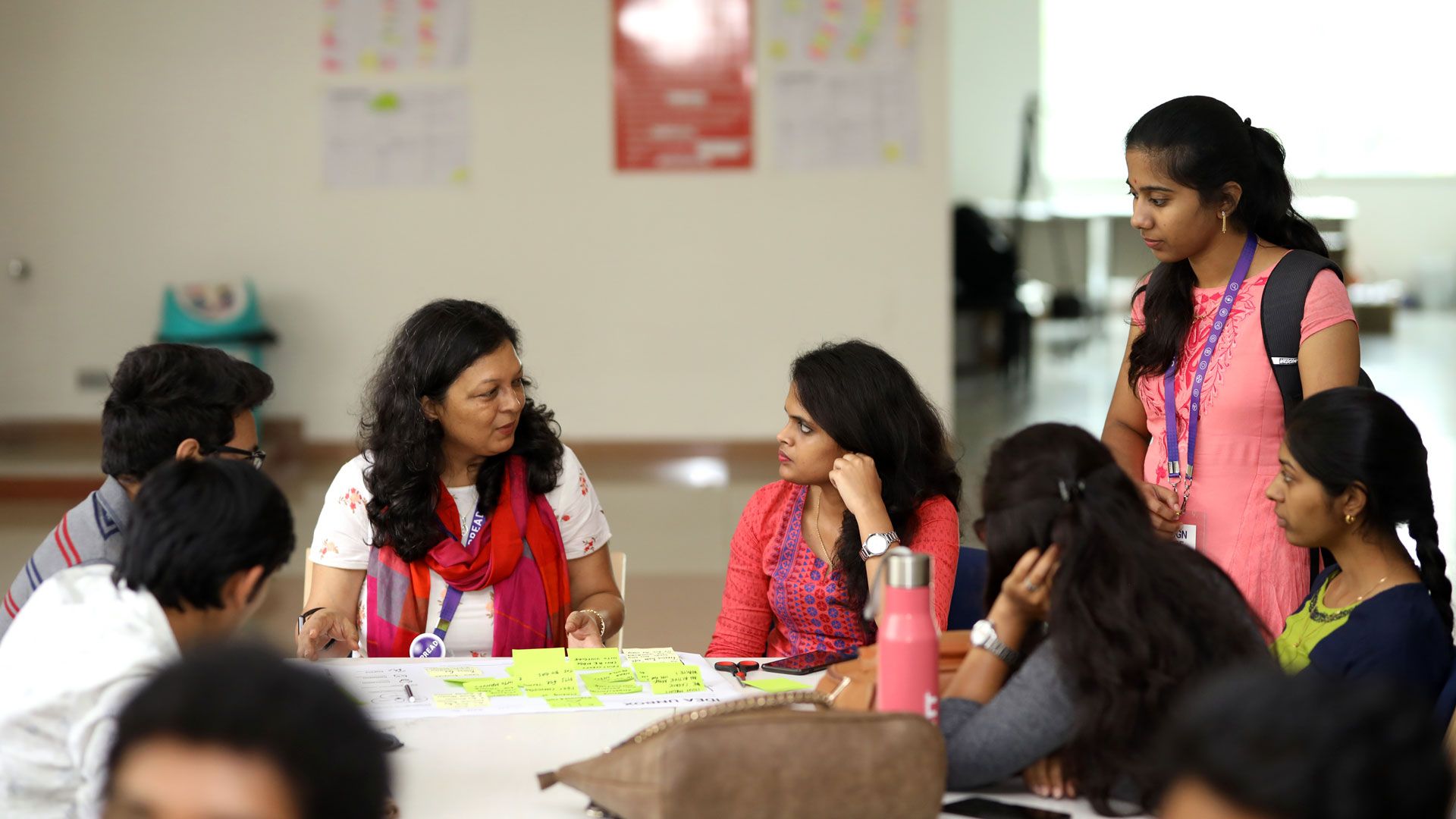 Seven zones and many mascots later…
Armed with information and inspiration, students were then divided into seven workshop zones, led by a pair of Design Catalysts. To break the ice and get people comfortable with working creatively and acting with their minds and hands, each team had to create a Superhero Mascot that embodies the values of Design Thinking. At first, there was a lot of deliberation, but very quickly the teams got down to making, undoing, and carefully crafting their well thought-through playdoh mascot, each with its own significance. This was their first immersion into creative collaboration, rising to a challenge within constraints of time and material, creating a narrative and pitching a compelling idea.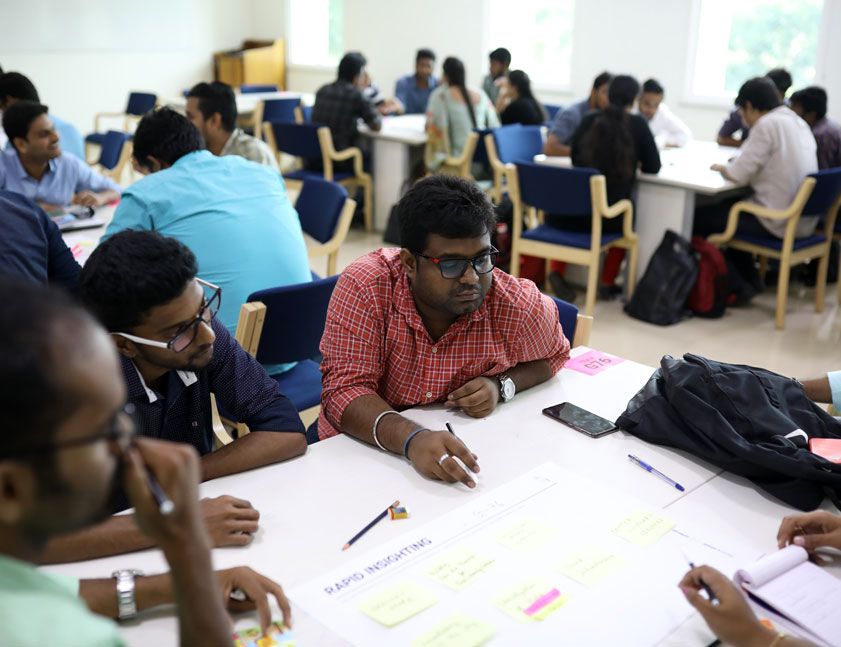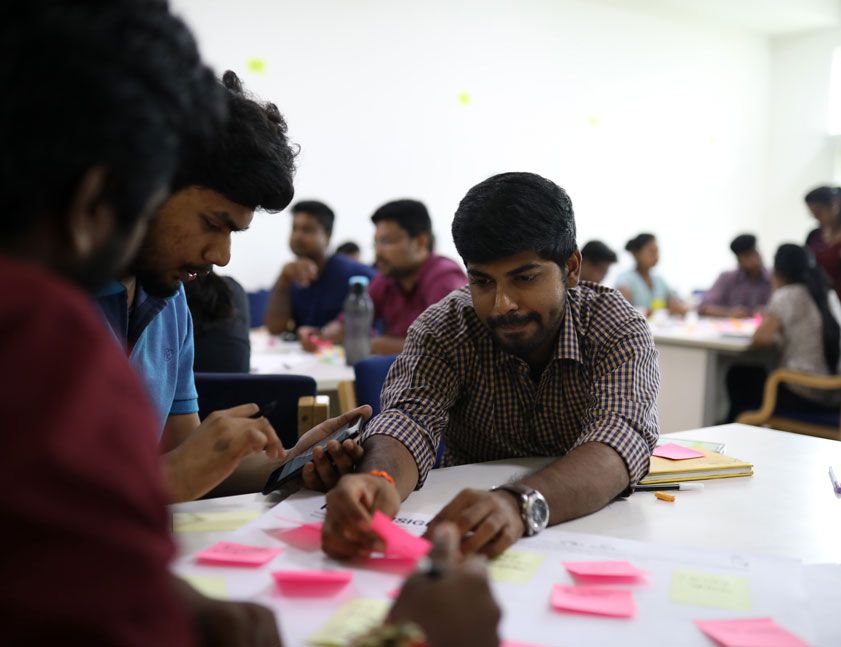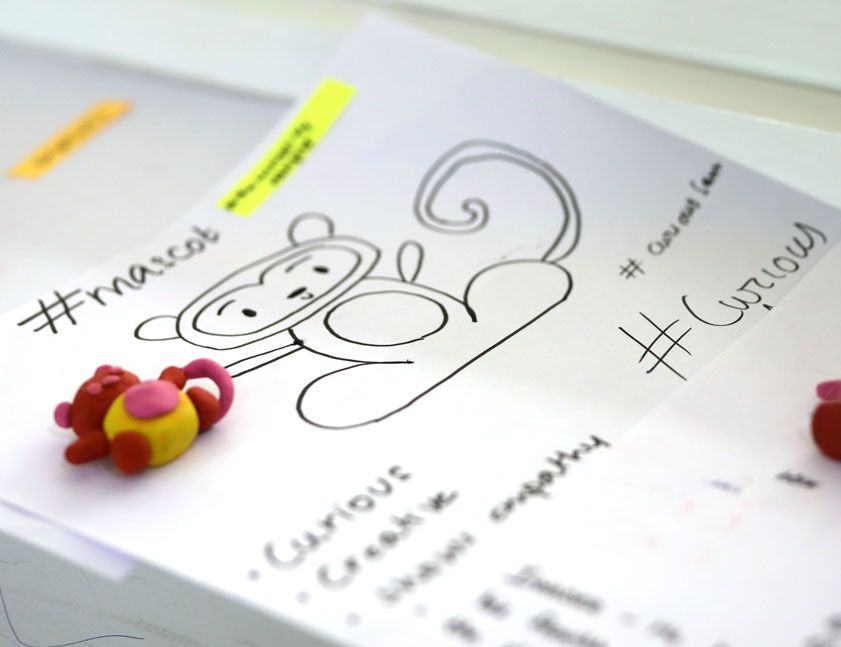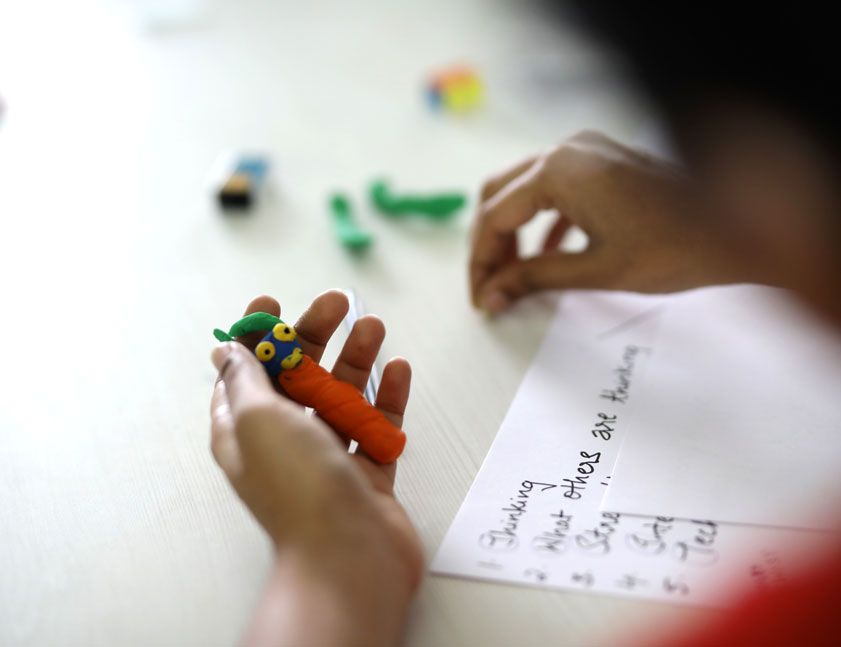 In less than 20 minutes, students had already created something together, with many minds and hands working simultaneously, building on each other's ideas and going with the flow – without realizing it, they were already participating in the fluid, creative, open, iterative Design Thinking process!
To get into the Feel zone, the first thing that the teams were expected to do was to develop their own understanding and definition of the idea of a 'Conscious Campus'. This involved deep immersion to go beyond first impressions, biases and assumptions; to gain a nuanced understanding. Of individuals, groups and communities; their choices and cultures.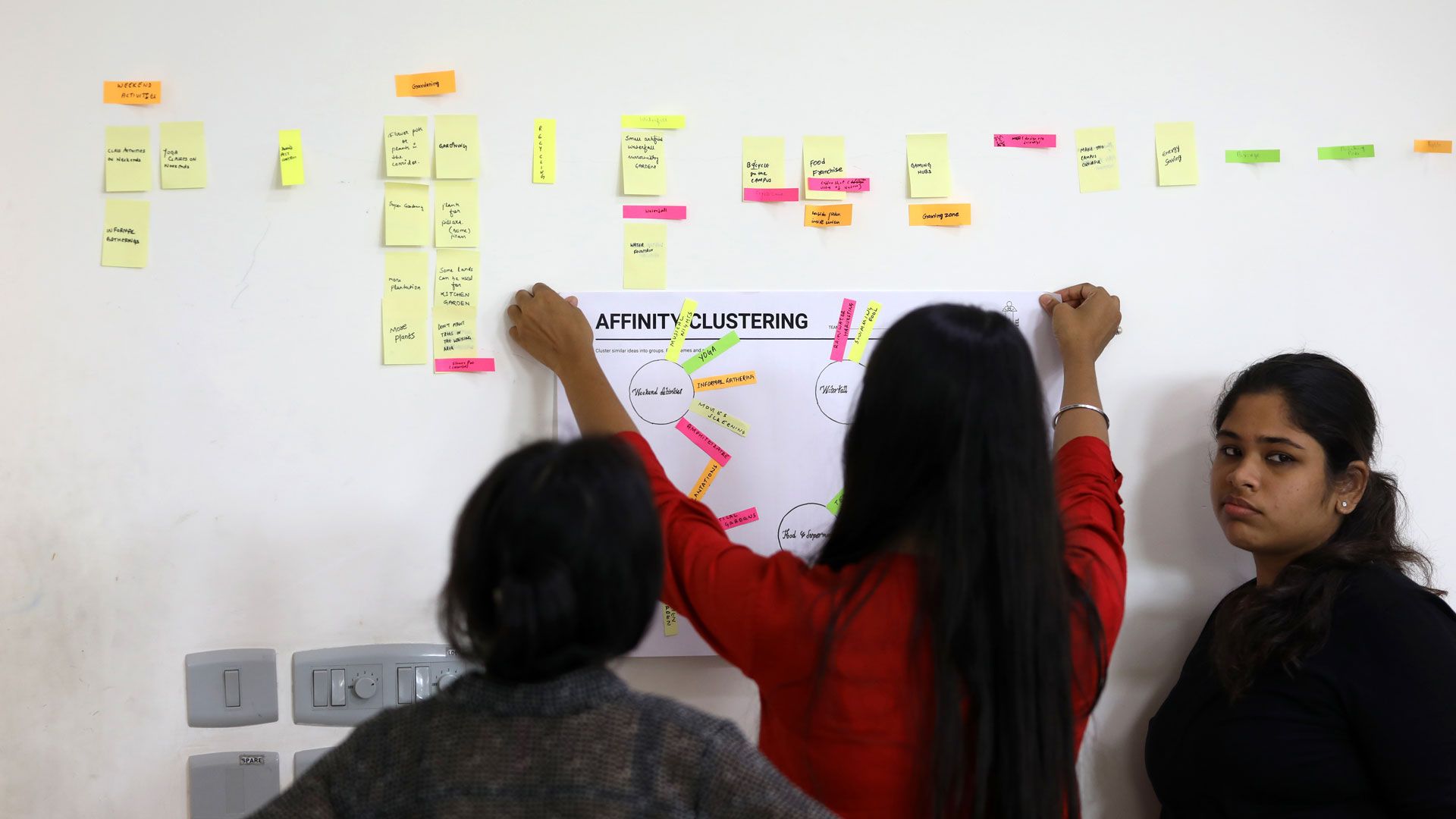 Working in teams of six, students came up with insights around potential challenges within the campus, and selected key themes. Students then went on a 'Feel Trip', to sensitize themselves to people around them, potential users/stakeholders, and to their surroundings. They came back, having walked a mile in the users' shoes, with observations and insights about potential users be it in the cafeteria or noticing how people disposed waste. While some teams interviewed fellow students, others interviewed faculty, admin and housekeeping staff – the teams took the inclusivity part of the brief to heart!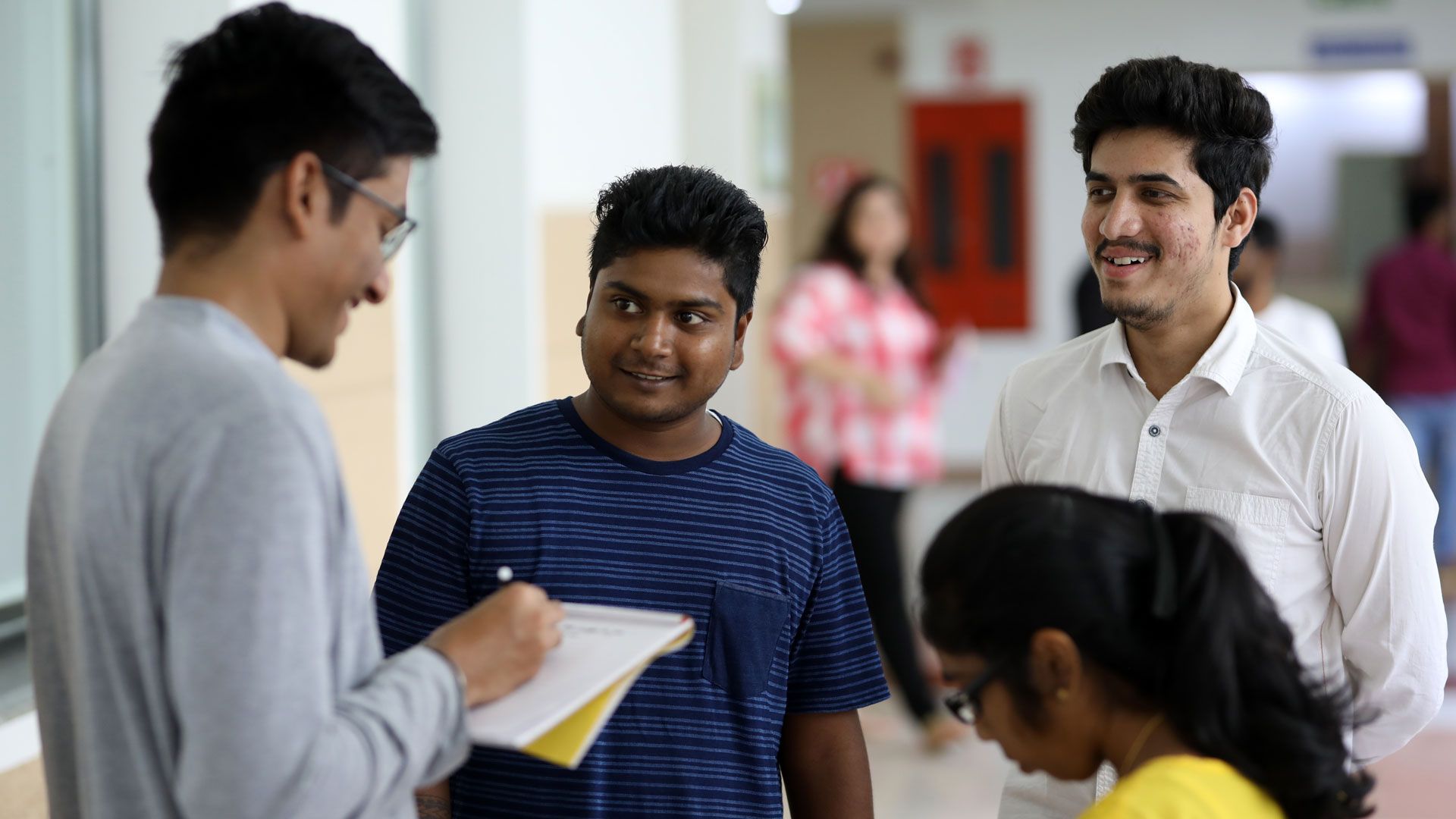 Fully charged, the students returned and learned how to use this newfound knowledge to develop EMPATHY MAPS, a key tool in the Design Thinking process.
Great ideas are born out of unlikely concepts being connected to create new value. On Day 2, guest speakers came in to open up minds and possibilities. Koula Achillea ( Project Manager – Community Relations, IKEA) and Farhan Jahangir ( HR Manager, IKEA ) shared the company's sustainability and design ethos through a set of highly impressive and scalable practices. From creating biogas and renewable energy onsite, to training local youth, to printing in-store communication on recycled cardboard pallets, IKEA has many commendable initiatives that one can learn from – most importantly, Koula's talk highlighted the fact that a business can do good and do well (economically), all while being sustainable.
Koula asked a pertinent question: Do you know how many plastic bottles you use everyday on your campus?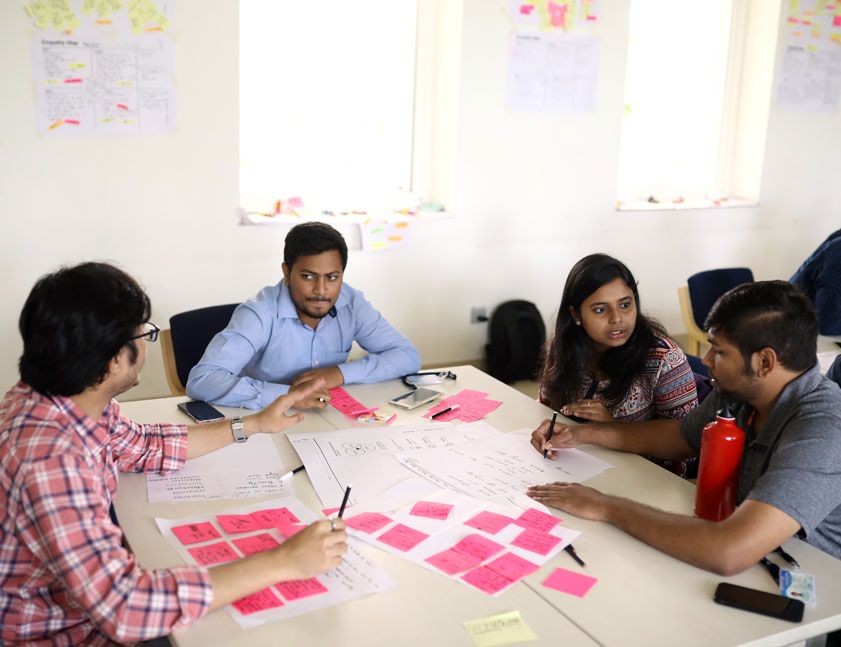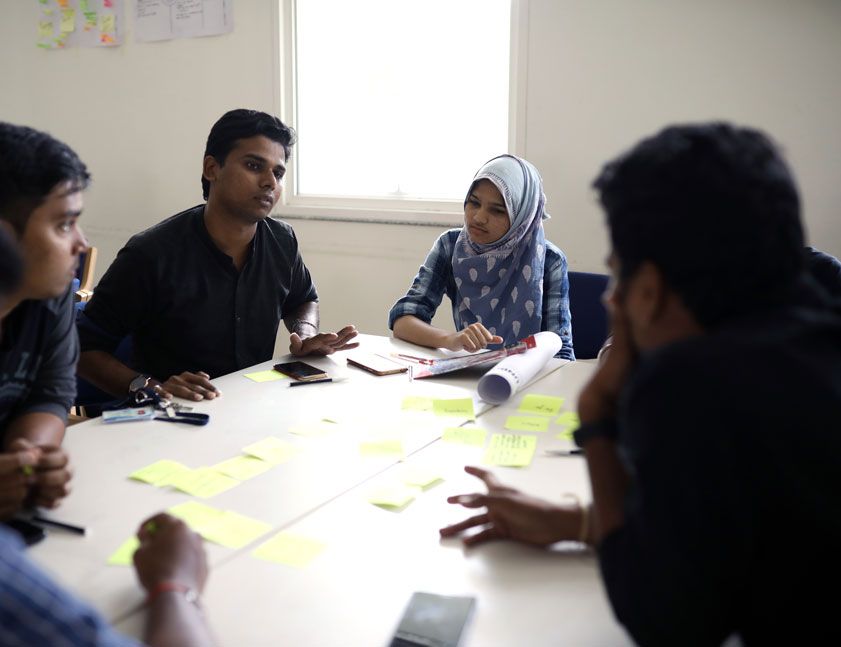 The plastic bottle may seem like just another thing we use. And throw. Seemingly insignificant, but it's representative of the larger problem we face and contribute to. That of mindless consumption, careless disposal, and in fact, it's quite the enemy of a Conscious Campus!
To open up minds further, Akila Chungi a ceramic artist and permaculture expert, came in to share the idea of permanent agriculture, principles of regenerative design, and practical tips for students to implement in their ideas.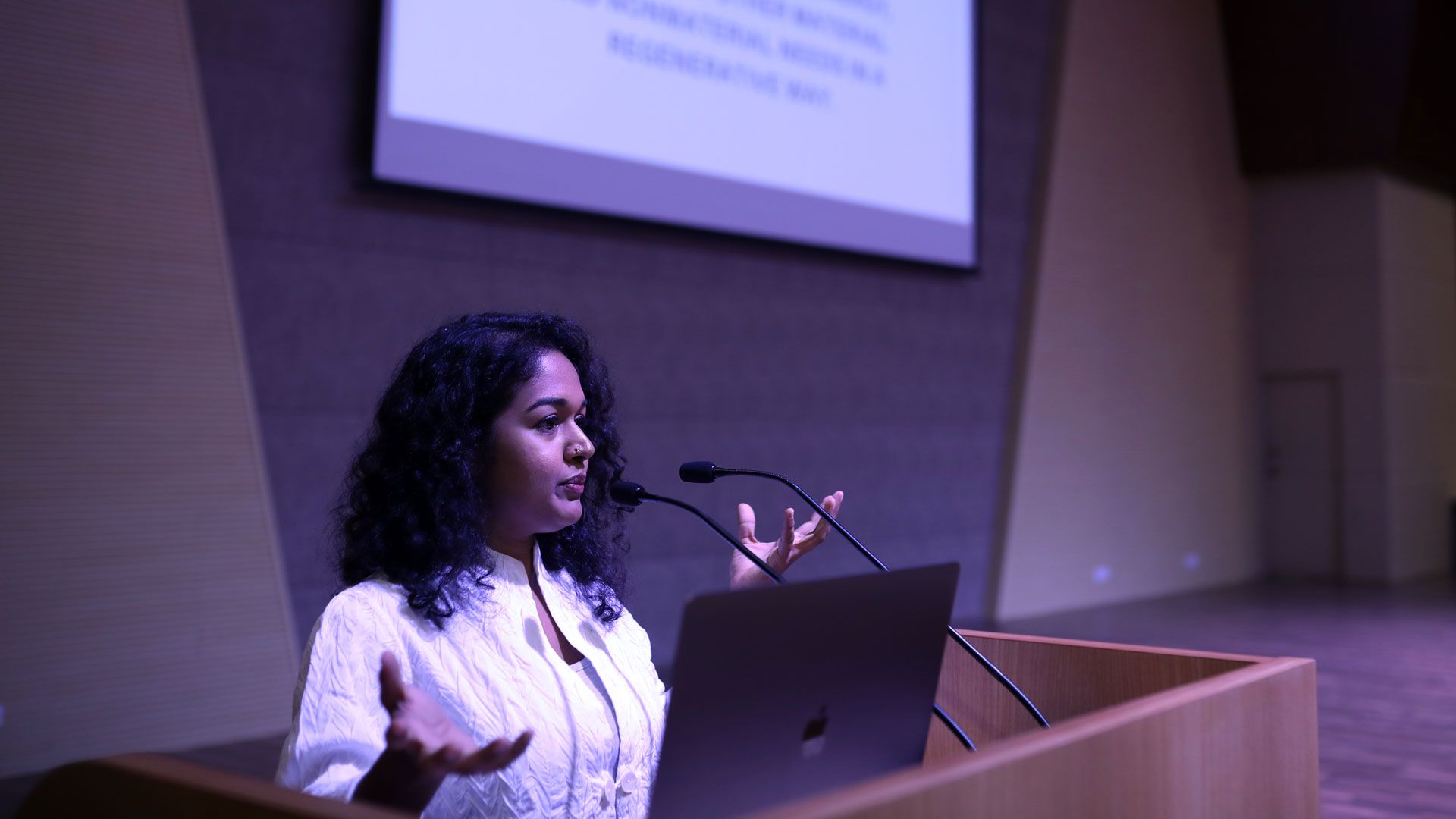 Multiplying ideas and possibilities
Students then moved to work-mode, coming up with lots of ideas collectively and finally selecting one idea to take forward, basis the criteria: desirability, viability, and feasibility. Guided by Sonia, the Design Catalysts helped teams narrow down their ideas basis how well they balance People (happiness), Nature (regeneration), and Resources (optimization). As a practitioner of permaculture, Akila's inputs throughout the day proved extremely useful to the teams she mentored.
Once they chose a Big Idea and articulated it, teams brought their ideas alive visually through IDEASCAPES, a great tool for visual thinking and communication – expressing an entire idea much better than words alone could.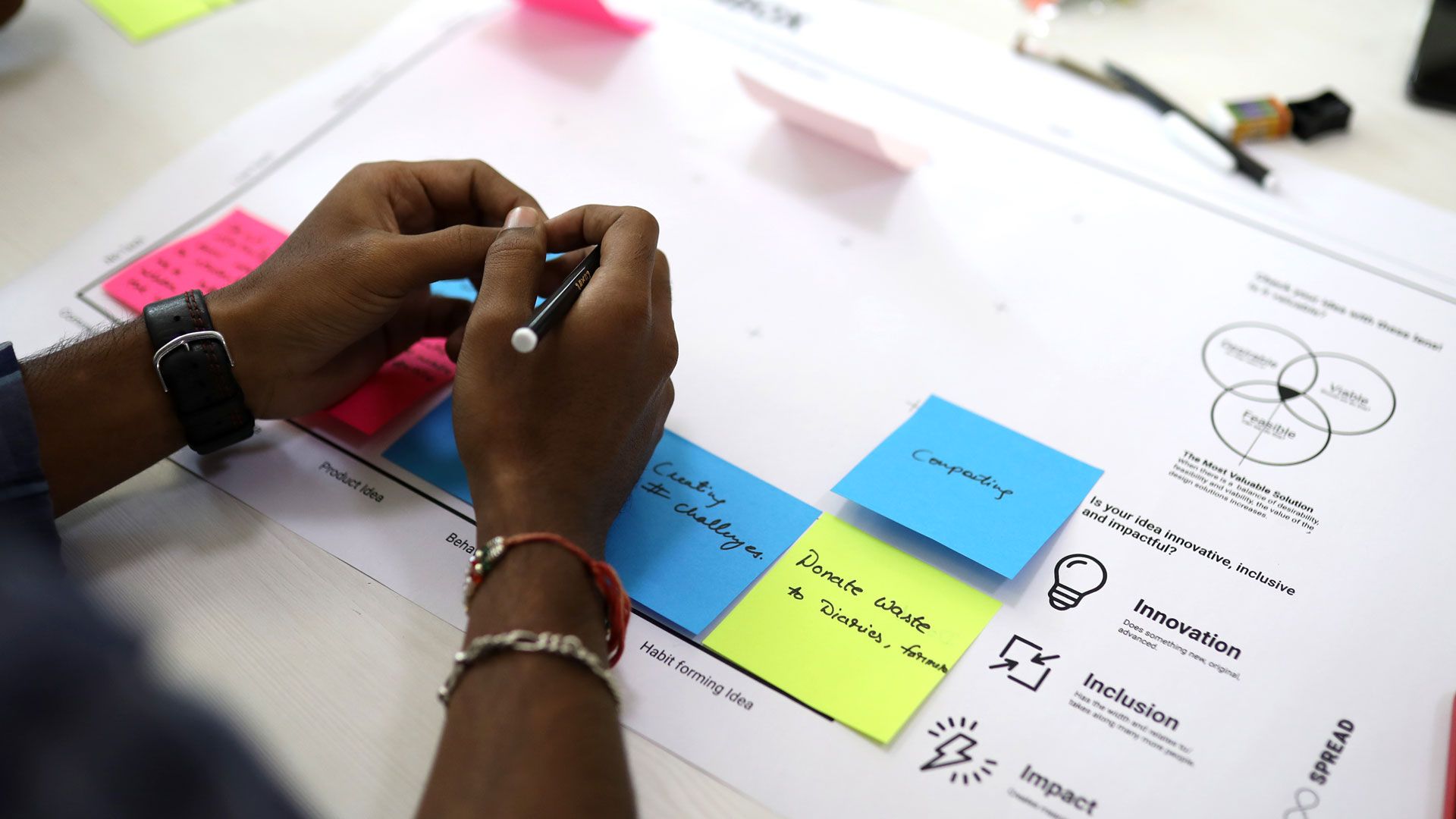 Great ideas are of no use if they're not put into action. Students were introduced to the Prototyping Mindset through examples, tools, and methods — they were encouraged to embrace failure and put their first version out there for feedback.
Reframing problems as opportunities, imagining possible scenarios while thinking beyond and exploring what as practices we must destroy, preserve and create. To create fresh meaning and value. Discover bold ideas, shape fresh opportunities and expand possibilities. Hack cultures and behaviors successfully. Critical and bold creative, divergent and convergent thinking.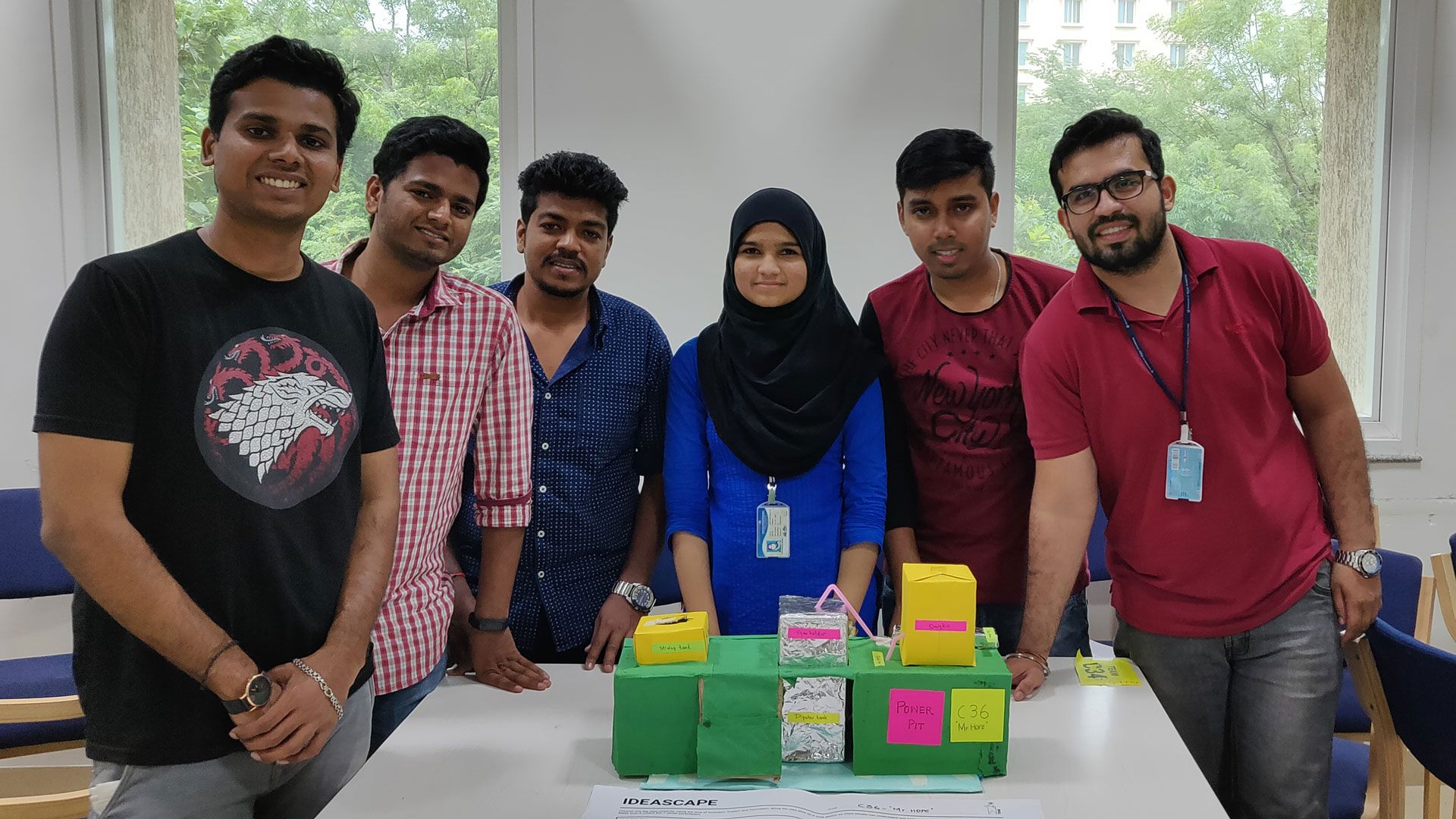 On the final day, it was all about the action! Teams refined their prototypes, with additional inputs from transdisciplinary experts. While they were provided some material like paper, bottles, cardboard, glue, etc.,
students went out of their way and showed extreme resourcefulness
in gathering things from around the campus that could be reused, and in creating with the limited things they could source. This truly brought alive the spirit or prototyping – the intent is to make things tangible, rather than go for perfection.
Students iterated, validated, and refined their prototypes basis feedback from potential users and the experts. Finally, even a great product won't make it big if it doesn't have a compelling story. Teams then worked on presenting their narrative creatively – through a storyboard, film, or even a role-play. While the Catalysts helped teams practice and refine their presentation, we set up an Open Jury and opened up all the workshop zones into an exhibit space. Of 83 teams, 25 were shortlisted to present in the Auditorium.
To gain a real sense of the feasibility, viability and desirability of journeys, solutions, experiences ideated – developing narratives and prototypes for genuine feedback and further development. Design, Build, Spread and Disrupt.
Final presentations were evaluated basis the idea, the team, prototype, and the innovation quotient. There were five teams chosen by the jury, Dr Sreenivasa Murthy (Dean), Sonia Manchanda, and Rajeshwari Math, for being a step ahead of their peers:
NATURE'S ROOM / A sustainably designed community space, made entirely of recycled materials. Meant for events, performances, and gatherings.
ROCK ECOSYSTEM / An initiative to maintain the natural biodiversity on campus by adopting rocks and protecting the rock ecosystem. Ideas for engagement: rock yoga, sunset by the rocks + more!
SEAT / A safe, effective, and affordable transportation system based on bike sharing for the IPE campus.
PAPERLESS / A smart idea to save 90,000 + papers per year by going paperless and switching to online examinations on campus.
TRASH CAN DO IT / An interactive trash can that sends back encouraging messages to the person disposing trash. The disposed stuff is then recycled to create whole new products, available for sale on campus.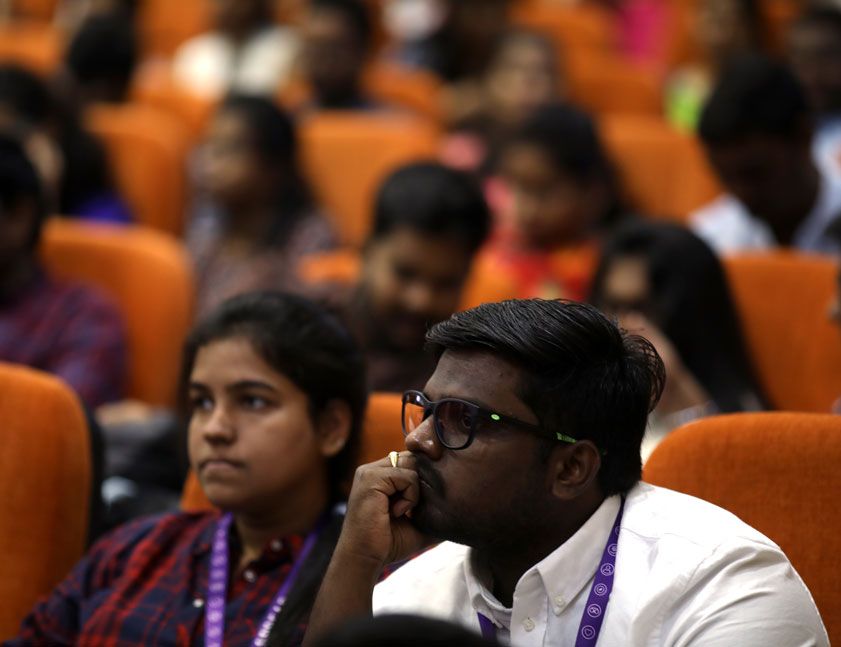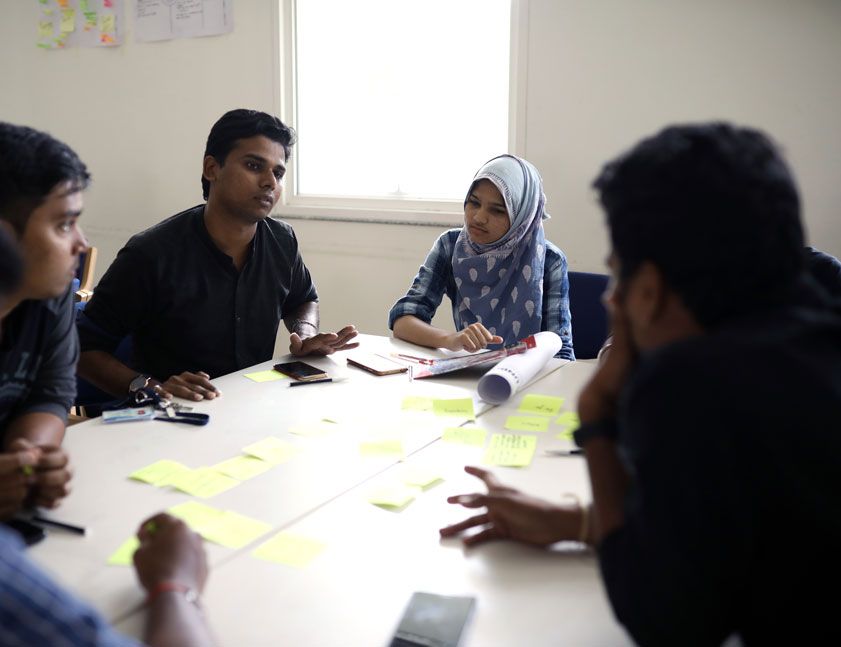 Way Forward: Taking ideas into action
Throughout the workshop, students played the role of thinkers, doers, and evangelists – capturing the creative process and every artifact to then make a solid project proposal to be implemented on campus.There are almost a hundred amazing ideas for a Conscious Campus, a unique place where there is understanding, ownership, responsibility and creative action to balance (regenerate) nature, people (happiness) and resources (optimisation). Most of them are practical, desirable, and very much doable!
Each prototype is going to be preserved and will serve as guidance for a Living Lab, or a open, transdisciplinary, experimentation and prototyping space on campus. The beauty of a Living Lab is that experiments are done in a real-life setting, rather than an academic context. In the future, the topics can be diverse and informed by issues on campus, in the city / state / country. Evangelized by students, guided by Spread, and with the support of IPE Leadership and the Board members, these ideas will be brought alive as living projects on campus.
Design Sense is for leaders acting creatively, consistently and systematically with authentic intent.