As design partner of Dept. of Agriculture, Govt. of Karnataka, we created the strategy design and communication for the Organics and Millets 2018 International Trade Fair. Positioning Karnataka as the hub of next gen smart foods, the event created a new platform connecting farmers, industry and consumers.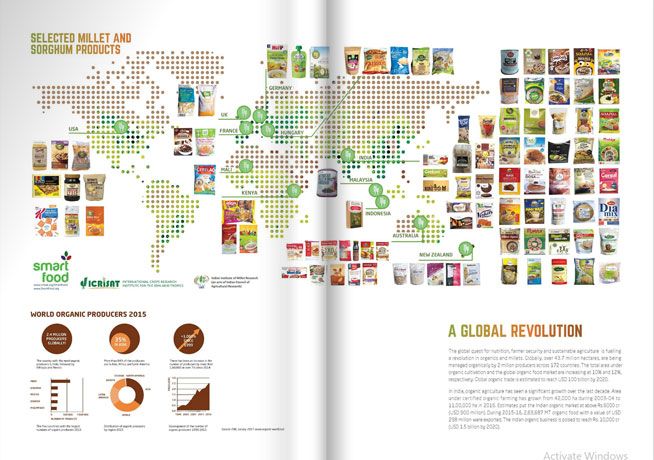 Prior to the event, the brochure and poster were designed with a unique organic and millet bouquet . A series of hashtags were created to spread the buzz on social media.
#Let'sMillet, #GoOrganic, #NextGenSmartFood, #GrowSmart, #EatSmart, #LiveSmart
We created a feature film, showcasing Karnataka's millet and organic bounty to the world. In parallel, a call film was made, featuring the Minister for Agriculture, Govt. of Karnataka welcoming global Smart food enthusiasts to the event in Karnataka, where the world of Organics and Millets converged.

The world of organics and millets received a unique welcome with a millet and organic bouquet from more than a hundred millet heroes. The event spread through the heroes network, outdoor media and through road shows nationally and globally.
The design of the exhibition blended the traditional and the modern elements of Karnataka, while a vibrant colour palette added to the celebratory mood. The exhibition space came alive with flags, dropdowns, selfie booths, Millet Maga, Millet Magalus, folk performances and more.
Khanavali, the 25,000 sq ft foodcourt of OMITF was designed inspired by the local food and traditions of Karnataka. With over 1.2 lakh footfalls in just 3 days, it emerged as the hub of global and local smart food enthusiasts.